Leprechaun Wresting
Baseball Grounds of Jacksonville
Jacksonville, FL
Visited July 9, 2010
Beer Selection: Good for a ballpark. The usual suspects plus Sam Adams and local microbrewery Bold City all for the same price ($6 for 24 oz).
Food: The foot-long bratwurst with peppers and onions is outstanding. Everything else is fairly ordinary, unimaginative ballpark fare.
First of all, let me start by telling you, no matter how many Guinness' you've had, that Leprechauns don't really exist.

But midgets do.

And thank goodness for that.

Because when you take midgets who happen to be internationally known professional wrestlers and dress them in Leprechaun outfits and place them in a wresting ring for a "St. Patrick's Day in July" Southern League baseball game promotion, you have the makings of the very stuff that makes this country great.


When Suit 757 isn't sitting on one (a 757, not a Leprechaun), this is the type of place you can find him.
Like Friday night at the Baseball Grounds in Jacksonville Florida, Section 103 with a green beer in hand wearing my "Irish Drinking Team" baseball jersey and Irish Kevin's Key West (definite topic for another blog) baseball hat. (I draw the line at wearing suit to a minor league baseball game, making the Clark Kent clothing change in the rental car sometimes necessary).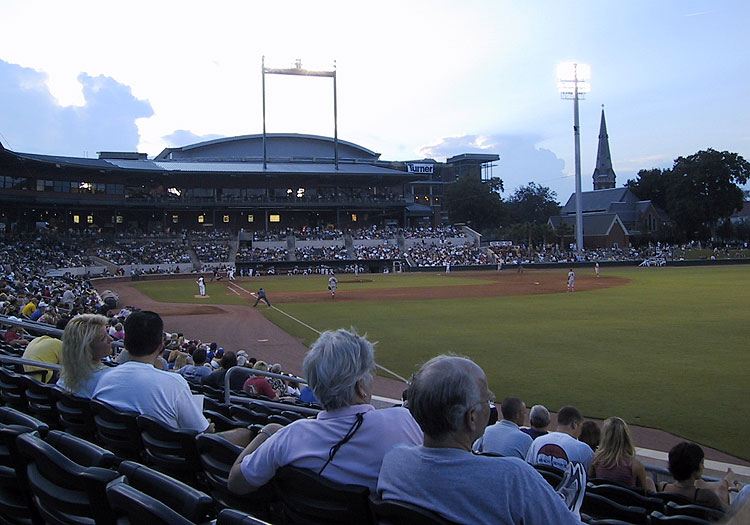 Where else can you sit outside on a sweltering, steamy Southern night with cold beer in hand and watch the likes of future Chicago Cubs star Josh Vitters belt a 400 foot home run and make a spectacular diving catch between third and short, with the home team coming away with a dramatic one run win – and capping it all off with fire works and Leprechaun wresting?
Southern League Baseball, exploding ordinance, green beer and Leprechauns. Proof once more that remnants of America can still be found – if you just know where to look.